Fishing in Key West is a popular activity for both locals and tourists alike. With its warm climate and abundant marine life, Key West is a great destination for anglers of all skill levels. Whether you're a novice or an experienced angler, planning your fishing trip to Key West can be a daunting task. To help you make the most of your time in Key West, we've put together a fishing calendar guide to help you plan your trip.
Seasonal Overview
The fishing season in Key West is divided into two distinct seasons: the wet season and the dry season. The wet season runs from May to October and is characterized by higher temperatures and more frequent rainfall. During this time, the waters are warmer and the fish are more active. The dry season runs from November to April and is characterized by cooler temperatures and less rainfall. During this time, the waters are cooler and the fish are less active.
Spring
(Sailfish, Dolphin, Blackfin Tuna, Wahoo, and Kingfish)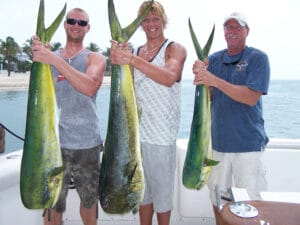 March through May is the transition time from the dry season to the wet season. The waters are starting to warm up and the fishing is starting to really turn epic.  Spring starts bringing in Sailfish, Dolphin, Blackfin Tuna, and Kingfish. This time of year can be windy so make sure you are ready for big seas.
Summer
(Sailfish, Dolphin, Marlin, Swordfish, and Wahoo)
June through August we are fully in to the wet season and the temperatures are heating up. The Mahi are biting like mad this time of year, but they are farther off shore. It is best to go for 6 or 8 hour trips this time of year to ensure you have time to get to the fish.  In addition to the Dolphin, you will have a chance to catch Sailfish and Wahoo. With the temps rising and the longer trips, your best bet is to look for boats with air conditioning to help keep you cool on the trip.
Our deep sea fishing boat is a 46 foot Bertram sportfish equipped with air conditioning as well as many other amenities that make is the perfect choice for all seasons.
Fall
(Swordfish, Dolphin, Wahoo, Blackfin Tuna, and Marlin)
September through November is hurricane season, so you do roll the dice with your plans in the keys. Early fall is still a strong time for Dolphin, Marlin, Swordfish, Blackfin Tuna, and Wahoo.  The marlin are more active during the full moon and the dolphin are starting to get smaller, but are still quite active. The fishing this time of year can be challenging and frustrating. Some days are epic and others are a washout.
Winter
(Wahoo, Sailfish, Blackfin Tuna, Kingfish, Permit, Sharks, Mackerel, and Barracudas)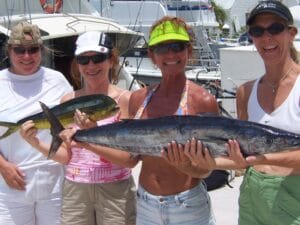 December through February has some of the best weather and it's a great time to be on the water. The fishing is starting to pick up as well. You really never know what you might catch in early winter. Full moons and new moons will bring out the wahoo and occasional Marlin. Kingfish should be the main catch this time of year. Be prepared for windy conditions, if the wind is from the southeast, you might find Mahi are biting.
Best Time to Catch Specific Fish
The best time to catch specific fish in Key West depends on the species. For example, tarpon are most active during the wet season, while bonefish are most active during the dry season. Other popular species such as Snapper, Mahi, and Barracuda can be caught year-round.
Dolphin (Mahi Mahi) – Year Round, best chance May – August
Sailfish – September – June
Tuna – September – May (in the Atlantic)
Marlin – May – August
Kingfish – January – March (in the Atlantic AND Gulf)
Mackerel – September – June
Barracuda – Year Round